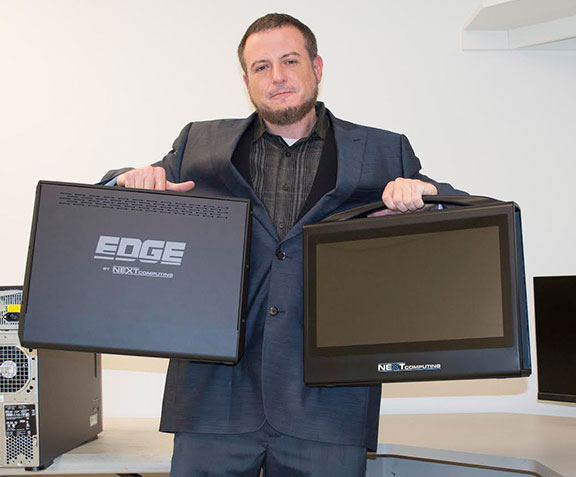 POWERFUL. PRACTICAL. PORTABLE.
Edge by NextComputing is a streamlined, high performance computer line for Creative Professionals, ideally suited for VR, Video Post Production, Animation and CAD developers. The Edge T100 headlines the lineup, featuring high-end workstation performance in an impossibly small package that easily fits into the most limited work spaces.
Edge answers the call for a system that meets or exceeds the performance demands of 360 VR, 10K video production and editing, Live Streaming, 3D Modeling and Animation.
System Info
FLEXIBLE. IMPOSSIBLY SMALL. EXCLUSIVE SOFT TOUCH FINISH.
Demonstrate your designs on a system that stands out as much as your creativity. Sacrifice none of the performance features you need.
Up to 44 Intel Xeon™ CPU cores
Up to 3 full size professional GPUs
PCI Express and SATA SSDs and high-capacity drives
Use Cases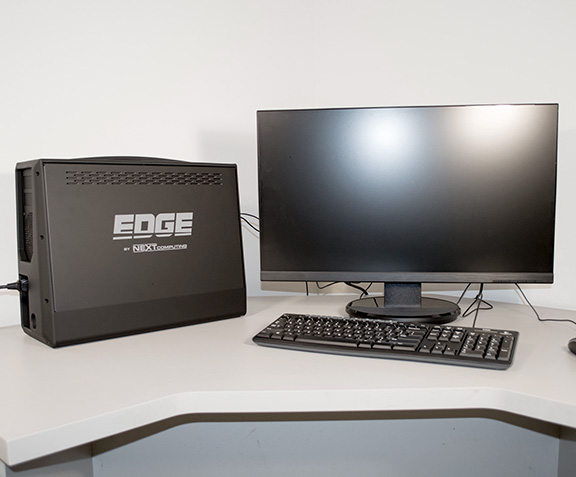 THE GADGET PROFESSOR CAN'T STOP SAYING WOW
Interview with Bob Labadini,
Designer of the Edge
Don Baines, the Gadget Professor, checked out the Edge T100 at NAB 2017 for the first time. Impressed with its small size, sleek design, and powerful performance, he endorsed the product as an innovative workstation for creative professionals.
News
See Us at IBC 2017
(9/11/2017)
-
We are proud to be a part of the world's leading media, entertainment and technology show. IBC encompasses the whole breadth of media creation management and delivery, from online content to digital cinema, from automated workflows to high resolution capture and display.