Edge Creative Solutions
The perfect systems for the tools you love to use
The Edge is available in a wide range of configurations, and supports a multitude of powerful components. With that many options, it can be intimidating if you're not certain exactly what you need for your specific workflow.
Edge Creative Solutions are optimized for specific toolsets so you know right away that you're getting the perfect system to power your creative process.
Edge TR for Cinema 4D and Wacom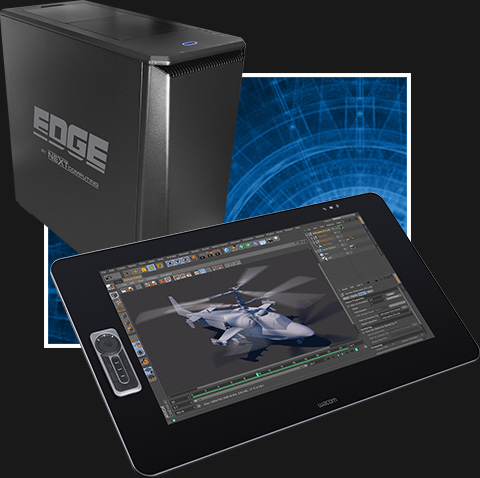 Buy Now
This system is optimized for the smoothest experience running CINEMA 4D with a Wacom Cintiq Pro pen display.
It features:
AMD Ryzen Threadripper

This CPU boasts barrier-busting processing power. 16 cores provide an astonishing 32 threads of simultaneous multi-processing power while up to 40MB of combined cache and vast I/O from the AMD X399 chipset provide optimization.

Dual NVIDIA GeForce

Dual NVIDIA GeForce GTX 1080 Ti graphics cards; double the performance of NVIDIA's singularly impressive card, packed with extreme graphics horsepower and next-gen memory.

Fast, Reliable Storage

1TB Samsung 960 Pro NVMe M.2 Solid State Drive, a high-speed, highly reliable drive designed for heavy workloads and demanding applications.
Processor
AMD Ryzen Threadripper 1950X 16-core (32 threads) 3.4GHz processor, 180W, Socket TR4
Memory
64GB DDR4 3200MHz non-ECC RAM
Graphics
Dual NVIDIA GeForce GTX 1080 Ti cards

CUDA cores: 2 x 3584
GPU memory: 2 x 11GB GDDR5X RAM
Memory interface: 352-bit
Memory bandwidth: 484 GB/s
Output: 7680 x 4320 (8K) @60Hz
SLI-HB Bridge included

Storage
NVMe M.2 1TB Samsung 960 Pro NVMe M.2 Solid State Drive
OS
Windows 10 Pro 64-bit Workstation Edition
Audio
Realtek® ALC1220 2/4/5.1/7.1-channel High Definition Audio, support for Sound BlasterX 720
Accessories
Includes Logitech MK200 USB wired keyboard and mouse combo kit
Power
850W PLUS Platinum certified fully modular power supply
Physical
18.5″ D x 8.3″ W x 18.3″ H
The Edge TR for CINEMA 4D and Wacom tablets is available now online!
If you have questions, or want to explore other custom configurations, contact us today