Get an Edge up on your Design Education with
NextComputing and Wacom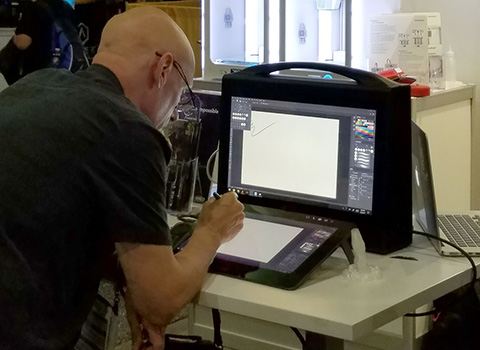 NextComputing, renowned innovators in the creative community for our impossibly small creative workstations focused on animation, VFX and VR development, launch a program designed to propel students in the digital arts industry into rewarding careers ripe with advancement potential.
This program is made possible with the support of multiple partners who are key players in the industry like Wacom, AMD and B&H Photo Video.
The Edge Up Education Program offers students deep discounts on a high performance creative development bundle that includes our portable Edge P100 all-in-one creative workstation and Wacom's Cintiq Pro creative pen display. The combined solution allows students to work on their creations in class, bring them home, to the library or to their internships easily. Edge P100 optimizes the performance of Cintiq pen displays so your creativity flows freely with zero lag.
Students of qualifying digital arts programs are eligible for the Edge Up Education creative development bundle discount.
Performance Features of the Edge P100 / Cintiq Pro Education Bundle include:
Portable, sleek and quiet workstation
Integrated HD display
Workstation-class processors
AMD Radeon Pro graphics
Wacom Cintiq Pro 16 with new Wacom Pro Pen 2
Optimized lag-free Cintiq performance
As the new Edge Up Education Program expands, members will gain access to a private online community for collaboration with key players in the digital arts industry. First look industry trends and technology advancements as well as potential internships and job opportunities may be available.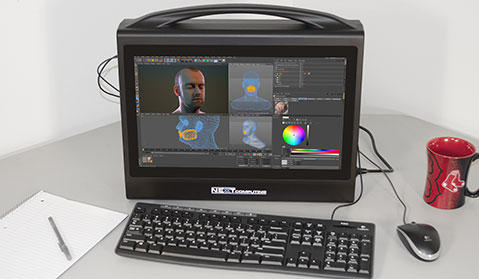 This powerful Education bundle is currently available in the following configurations:
Basic
Education Bundle

Advanced
Education Bundle

System
Edge P100 with carrying bag
Edge P100 with carrying bag
Power
450W SFX PSU
450W SFX PSU
Motherboard
ASRock Z270 Gaming-ITX
ASRock Z270 Gaming-ITX
Processor
Intel Core i5-7600K 3.8GHz 4C/4T 65W
Intel Core i7-7700K 4.2GHz 4C/8T 91W
Memory
16GB DDR4 2400MHz non-ECC
32GB DDR4 2400MHz non-ECC
Storage
Seagate FireCuda 1TB 2.5″ SSHD
Intel SSD 600p Series 1TB M.2 NVMe
Graphics Card
AMD Radeon Pro WX 5100 8GB GDDR5
AMD Radeon Pro WX 7100 8GB GDDR5
Input
Logitech MK200 USB mouse/keyboard
Logitech MK200 USB mouse/keyboard
OS
Windows 10 Pro 64-bit
Windows 10 Pro 64-bit
Warranty
3-year warranty on the Edge P100
3-year warranty on the Edge P100
Pen Tablet
Wacom Cintiq Pro 16 with Wacom Pro Pen 2
Wacom Cintiq Pro 16 with Wacom Pro Pen 2
Edge Up Education Bundle Price
$5,413
$6,448
CINTIQ PRO PEN DISPLAYS POWERED BY
THE EDGE P100 CREATIVE WORKSTATION

DRAWN TOGETHER