Ready to Create
EDGE WORKSTATIONS WITH AMD RYZEN
Announcing our NEW Threadripper workstation – Edge TR!
Bring creative development up to a new level of performance with our line of Edge workstations powered by AMD Ryzen™ Threadripper and Ryzen™ 7. Experience optimal performance from workstation-class components all wrapped up in slick, impossibly small packages. Demanding creative applications demand ever-increasing system capabilities. Gain a leg up in the race to keep up with software development by investing in the power you want right now, and the power you will need in the future.
NextComputing is proud to partner with AMD, consistently breaking down barriers of power and performance, offering solutions that reinvigorate the high-end PC market. We are excited to support AMD's latest Ryzen Threadripper CPUs with our own NEW Threadripper workstation, Edge TR!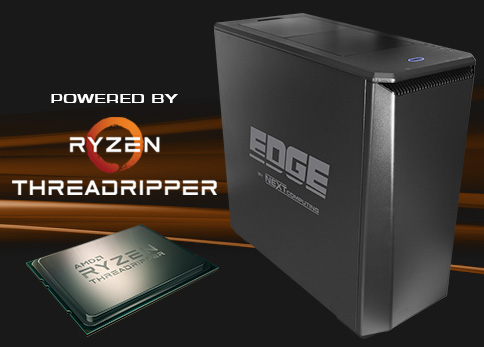 "NextComputing continues to innovate by designing a grounds up, compact workstation featuring AMD Ryzen Threadripper, which is proving to be a market favorite for workstations. AMD is excited to support NextComputing in the introduction of the Edge TR. NextComputing's Edge TR will provide the performance that the most demanding creative professionals and design engineers need for content creation and production and simulation, respectively."
– John C. Morris General Manager Workstation Compute Business Unit , AMD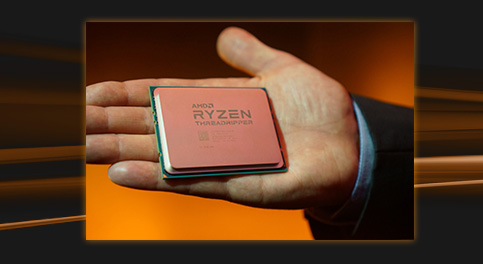 AMD Ryzen™ Threadripper 1950x processor boasts unmatched processing power. Up to 16 cores provide an astonishing 32 threads of simultaneous multi-processing power while up to 40MB of combined cache and vast I/O from the AMD X399 chipset provide optimization. NextComputing has incorporated the power of AMD Ryzen Threadripper into a compact, slick package that will make the most discriminating creator proud to call it his or her machine.
"Our Edge Threadripper workstation was unveiled privately on August 29th at AMD's own Ryzen PRO Global event in New York City, and it received an astoundingly positive response. Now available publicly, we expect enormous interest from the creative developer community."
– Bob Labadini, President and CTO, NextComputing
The Ryzen 7 based Edge T100 workstation and Edge P100 AIO system provide portability along with top notch performance for creators on the go, or those looking for workstation performance in a form factor that takes up much less space than traditional towers.
AMD Ryzen 7 processor has earned the title of the world's fastest 8-core processor. With 8 CPU cores, 16 threads and a Max Turbo Core speed of 4 GHz, AMD describes the processor as the pinnacle of desktop processing power.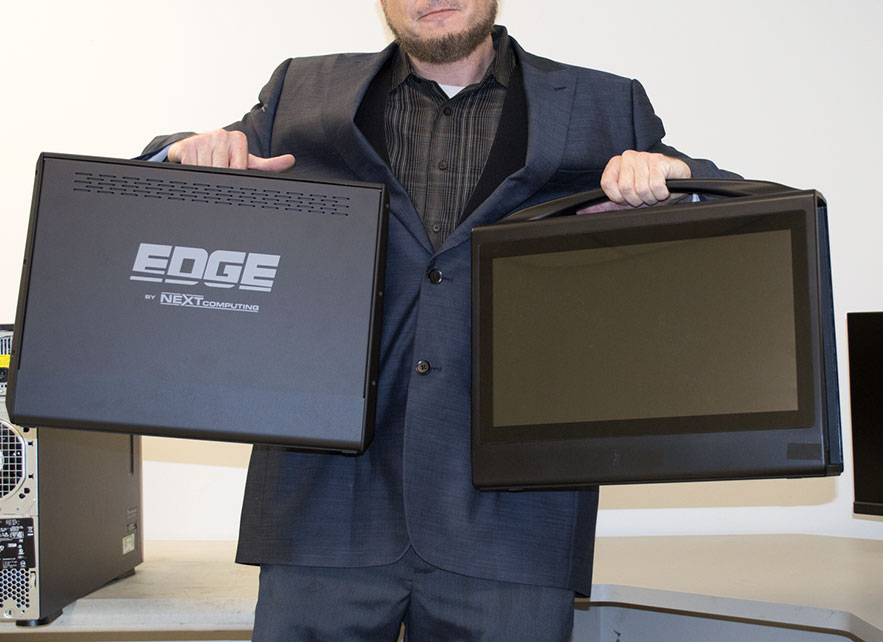 Edge P100

Edge T100

Edge TR

System
Portable all-in-one w/ 17.3″ HD display
Compact mini-tower
High-performance mid-tower
Processor
AMD Ryzen 1800X 8-core 3.6GHz
AMD Ryzen 1800X 8-core 3.6GHz
AMD Ryzen Threadripper 1950X 16-core 3.5GHz
Memory
128GB DDR4 2666MHz
128GB DDR4 2666MHz
128GB DDR4 2666MHz
Storage

1x M.2 SSD up to 2TB
2x 2.5″ SSDs or HDDs up to 4TB ea

1x M.2 SSD up to 2TB
2x 2.5″ SSDs or HDDs up to 4TB ea.
3x 3.5″ HDDs up to 10TB ea.

3x M.2 SSDs up to 2TB
2x 2.5″ SSDs or HDDs up to 4TB ea.
6x 3.5″ HDDs up to 10TB ea.

Graphics
1x Dual-width GPU up to 10.5″ length, 250W
2x Dual-width GPUs up to 12″ length, 250W ea.

3x Dual-width GPU up to 12″ length, 250W ea. -or-
4x Single-width GPUs up to 12″ length

Download Datasheet (PDF)
Download Datasheet (PDF)
Download Datasheet (PDF)
Build your creative configuration today
Power up with the Edge TR, Edge T100 or Edge P100,
incorporating best-in-class AMD Ryzen processors!