Introducing our amd-powered workstation
NextComputing is proud to partner with AMD, consistently breaking down barriers of power and performance, offering solutions that reinvigorate the high-end PC market. We are excited to support AMD's latest Ryzen Threadripper and AMD EPYC CPUs with our Edge XTa workstation!
Powerful creative applications demand ever-increasing system capabilities. Gain a leg up in the race to keep up with software development by investing in the power you want right now, and the power you will need in the future.
---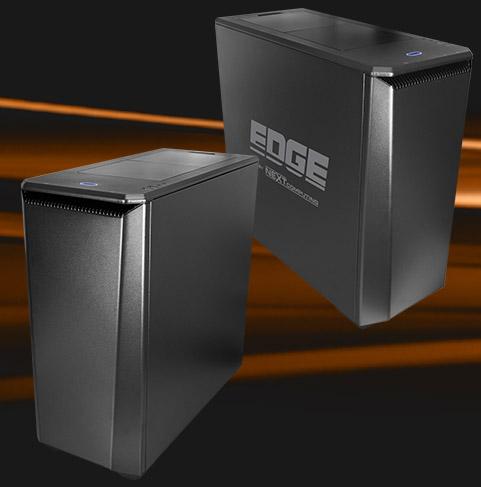 UNPRECEDENTED PROCESSING POWER

AMD Ryzen Threadripper and AMD EPYC processors for elite performance

PERFORMANCE TUNED

Optimizes popular creative developer applications

MULTIPLE GPU SUPPORT

Leverage one or more full-size workstation-class graphics cards

MASSIVE STORAGE

Multiple storage options including PCI Express based or SATA-based SSDs

APPLICATION SUPPORT

We work directly with our customers every day to ensure that our computers meet their unique requirements
a few words about threadripper
"NextComputing continues to innovate by designing a grounds up, compact workstation featuring AMD Ryzen Threadripper, which is proving to be a market favorite for workstations. AMD is excited to support NextComputing in the introduction of the Edge XTa. NextComputing's Edge XTa will provide the performance that the most demanding creative professionals and design engineers need for content creation and production and simulation, respectively."
– John C. Morris General Manager Workstation Compute Business Unit , AMD
"Our Edge Threadripper workstation was unveiled privately on August 29th at AMD's own Ryzen PRO Global event in New York City, and it received an astoundingly positive response. Now available publicly, we expect enormous interest from the creative developer community."
– Bob Labadini, President and CTO, NextComputing
need more?
Our online configurations are only the start! To build a custom system to meet your needs, call a NextComputing Sales Engineer at 1-603-886-3874 or click here to contact us online.
Available CPUs

Single AMD Ryzen Threadripper 2990WX 32-core
Single AMD Ryzen ThreadRipper 1950X 16-Core

Single AMD Ryzen 7, 2700X 8-core

Single AMD EPYC 7501 32-Core

Memory

64GB DDR4 2666MHz
Additional upgrades available to 1TB DDR4 RAM. Ask a NextComputing Sales Engineer.

Motherboards

AMD AX399 (Threadripper), AMD EPYC™ 7000
All CPUs liquid cooled with acoustically quiet system/PSU fans

Networking and Data Off-Load

Threadripper motherboard:

Intel® Wi-Fi 802.11 a/b/g/n/ac, supporting 2.4/5 GHz Dual-Band,
USB Type-C™ port, with USB 3.1 Gen 2 support
1 x RJ-45 1GbE LAN port

EPYC motherboard:

2 RJ45 1GbE LAN via Intel® I210
1 Realtek RTL8211E PHY (dedicated IPMI)

Upgrades available: 10G and other networking PCI Express cards

PCI Expansion

Threadripper motherboard: (5) full-length PCI Express 3.0 slots
EPYC motherboard: (7) full-length PCI Express s 3.0 slots

Storage

500GB M.2 PCIe Gen3. X4, NVMe OS/application SSD for fast boot and load.
1TB M.2 PCIe Gen3. X4, NVMe OS/application SSD for application data
Upgrades available: (see Power options below)

Threadripper motherboard only: Additional (1) M.2 SSD up to 2TB
Up to (4) 2.5" Solid State Drives up to 4TB each – only (2) 2.5" SSDs if any 3.5" drives installed
Up to (2) fixed 3.5" SATA/SAS hard drives, up to 10TB each

RAID
Options for onboard SATA RAID 0/1/5/10, or via add-on PCIe RAID controller. Ask a NextComputing Sales Engineer.
Operating Systems

Windows 10 64 Bit Pro
Additional OS available: Windows 2012 or 2016 server, CentOS 7.4, Red Hat 7.4 and other Linux distributions, VMWare vSphere 6.6

Power

1200W ATX 80 PLUS PLATINUM certified fully modular power supply; 90- 264V, 47-63Hz auto-switching
Additional upgrade available to 1600W PSU 80 PLUS Gold certified 115 – 240 V 50/60Hz auto-switching

Physical

18.5" (46.99 cm) D x 8.3" (21.08 cm) W x 18.3" (46.48 cm) H

Warranty
3 years parts and labor