360° VR WORKFLOW SOLUTIONS BY
TORUS MEDIA LABS AND NEXTCOMPUTING
Buy Now
Edge T100 by NextComputing, coupled with CANVAS 360™ Pro by Torus Media Labs, makes it easy to jump into the world of 360˚ VR video without leaving the tools you already know.
CANVAS 360 Pro is revolutionizing VR as a workflow inside of Adobe After Effects, enabling users to composite 360˚ footage / renders together with traditional After Effects layers and non-360˚ footage / renders. Built on a complex architecture under the hood, it offers a surprisingly simple and coherent interface to make ease of almost any 360˚ task. The workflow is complete with highly customized tools that work seamlessly alongside After Effects' powerful motion graphics & compositing tools.
The Edge T100 VR creation system delivers workstation-class performance, accommodating high-end GPU processing with AMD Radeon Pro graphics cards, in an impossibly small package that is so quiet you will barely know it's running.
360 VR SkiCross Teaser –
Stabilized with CANVAS 360 Pro
Software Used:
Adobe After Effects
TML CANVAS 360 Pro
Andersson SynthEyes
Hardware Used:
NextComputing Edge T100 workstation
Intel i-7 6900K 3.20GHz 8-core CPU
AMD Radeon Pro WX 7100
64GB Memory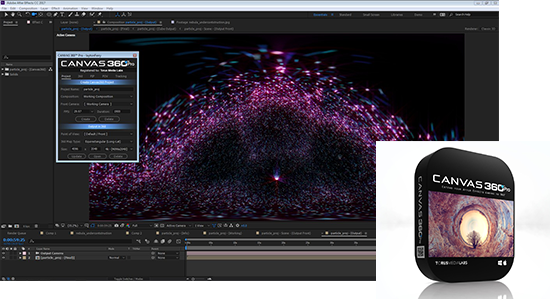 CANVAS 360™ Pro by Torus Media Labs
Full 10K canvas within Adobe After Effects
3D camera tracking and 360° stabilization
360° compositing
Optimal with Maxon Cinema 4D for 3D modeling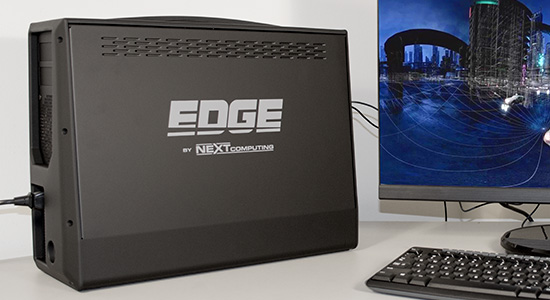 Edge T100 by NextComputing
High performance VR workstation
Mini desktop with carry handle
Sleek design and silent operation
Pre-configured with AMD Radeon Pro graphics
This innovative VR workflow emerged out of Adobe's concerted focus on actively collaborating with their contributor community, as Torus Media Labs co-founder, Mike Sevigny explains…